TROY CEMENTED POLISHED FEMORAL STEM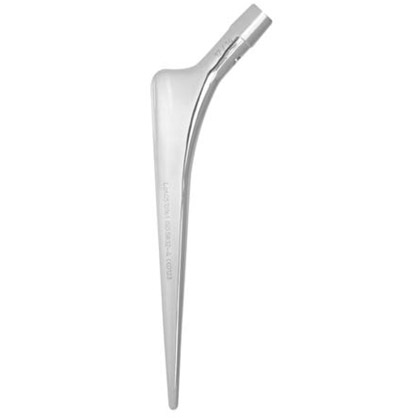 • Cast CoCr- for durability
• Mirror polished & Collarless
• Tapered design
• Stem range comprises 7 sizes: 8, 9, 10, 11, 12, 13, 14 mm
• 135º degree stem/neck angle for an anatomic reconstruction.
• 12/14 neck taper accommodates a complete selection of metal femoral heads with head center options of - -3.5 mm, +0 mm, +4 mm, +8 mm & + 12 mm.
• PMMA distal centralizers help create a uniform cement mantle.


Benefits
• Highly polished surface helps to reduce friction between the cement and the implant reducing potential for third body wear; polished double tapered design helps to create radial compressive loading.
• Collarless neck helps to allow intraoperative leg length adjustment aided by reference points on both the stem and the rasp.
• Compatible uni-polar, bi-polar and acetabular components.
• PMMA centralizer is designed to allow stem to engage distally within the cement mantle, subjecting the cement to compressive loading, and reducing end bearing of the stem directly onto the cement.
• The same instrument set applies for all Troy cemented & cement less stems