UNITRACK HEADLESS CANNULATED SCREW SYSTEM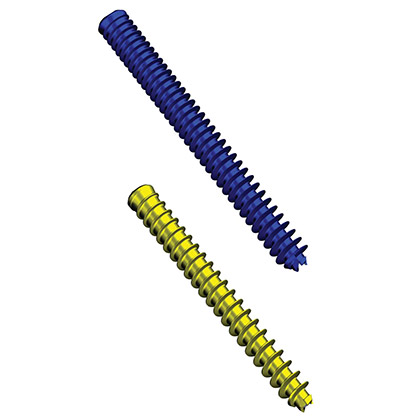 Tapered Profile: Obtaining compression and maximizing pullout strength along its length, it allows the threads to purchase new bone with each turn.

Variable Thread Pitch: As the screw advances, wider thread pitch at the tip of the screw decreases gradually and penetrates faster into the bone towards the end of the screw.

Headless: It allows titanium screws to be implanted in and around articular areas while it minimizes the risk of soft tissue compression or irritation in these regions.

Fully Threaded Length: It allows better handling of the variable and constant mechanical loading that may occur during healing. Thanks to this feature, UniTrack can be used for fractures, fusions, osteotomies, etc.

Self-Tapping: Grooves at the distal part and proximal tip of the screw allow UniTrack to be placed with a faster and easier surgical technique.

Cannulated: Minimizing the soft tissue irritation, it facilitates percutaneous placement of the screw.